About three years ago we went to a church soup and sandwich supper before a revival and this wonderful potato soup was on the buffet line. It was love at first taste! I got the recipe (along with a lot of other people, I'm sure), but I have no idea what happened to that treasured piece of paper. This is the way I have made it for two years—without the recipe.
4-6 cups, uncooked potato cut into chunks
6-8 cups chicken stock
1 carrot, finely chopped
2 celery stalks, finely chopped
1 onion, chopped
1 lb. ground beef
16 oz. Velveeta, cubed ( I use the 2% Velveeta)
1 cup, milk
salt, pepper, garlic powder to taste
dash or two of Worcestershire sauce
FIRST, brown the ground beef. Add the carrot, celery, and onion as the ground beef cooks. When the beef is done, drain and add to the crockpot—or stock pot—I do this recipe either way.
SECOND, add the potatoes and chicken stock to the pot. Let this cook for at least 8 hours in the crockpot on low or until the potatoes are done in the stockpot. (If I have them, this is where I add a bay leaf or two.)
THIRD, turn the pot down and stir in the milk. Add the Velveeta a few cubes at time, stirring them in well. After the Velveeta is melted is when I add salt, pepper, and garlic powder. Finish with Worcestershire sauce. I made this one time and my husband added that to the pot and I really didn't think it would be good, but it really added something special to the recipe.
Garnish with parsley and shredded cheddar cheese. Serves well with cornbread, garlic bread, or really any bread!
NOTES: This is not a smooth potato soup, though I am sure you could puree it if desired. Making this soup in the stockpot actually yields softer potatoes than the crockpot version (my picture was cheeseburger soup from the crockpot). Sometimes I just let it simmer in the crockpot longer and use my mixing spoon to smoosh some of the cooked potato in the pot so there are not so many chunks.
If the soup is too hot, the Velveeta can separate and 'curdle'. The soup still tastes fabulous, it just doesn't look as pretty.
ENJOY!!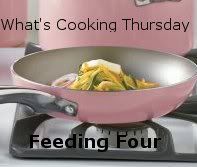 .